Gosling going to Africa soon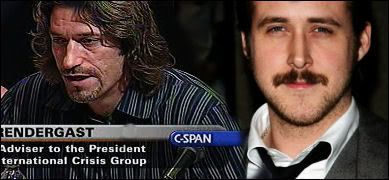 Helping Hollywood get serious about Africa, after advising the Clinton administration, John Prendergast moved on to movies.
"He and actor Ryan Gosling — a possible Oscar contender for his role in "Half Nelson" — are working on a script about child soldiers in Uganda and are planning a trip there in the coming weeks. Prendergast said he also hopes to have a website (called Enough!.com) online in February about the challenges facing the world in regards to Africa."
Source: Calendar Live